At Henderson Eye Center, we provide a complete range of treatments and services for the residents in Henderson, TX. Our top team of ophthalmologists offers the best care and services for our patients. Our experts at the clinic are experienced with providing eye surgery co-management to offer the ideal level of services necessary for the best results.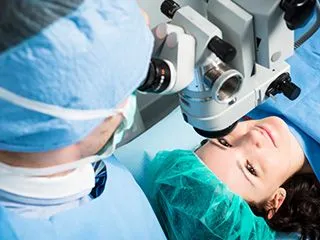 What is Eye Surgery Co-Management from an Optometrist?
Eye surgery co-management is the process of providing patient care before undergoing eye surgery. This means our team of professionals provides diagnostic care and provides patients with a referral to an expert eye surgery clinic in the area. We are highly experienced with this process and stay in contact with the best eye surgery clinics in the area to ensure each patient gets top-tier care and experience.
Once our eye doctor provides the initial screening and care, we refer the patient to the eye surgery clinic to undergo the recommended procedure. Once the procedure is completed, they return to us for immediate aftercare. Follow-up appointments will monitor the healing process and determine the results. It's a simple and effective process that allows each person to get the best results and care before, during, and after eye surgery.
A Wide Range of Treatment Options for Henderson, TX and the Surrounding Areas
Our team of experts and optometrists strives to provide each patient with the best care and options in the area. Some services our clinic currently offers our patients include:
LASIK eye surgery co-management
Family eye care
Computer vision
Eye and vision exams
Our services induce family eye care for children and adults. This includes routine eye exams and follow-up treatments and recommendations, including glasses, contacts, and more. Remember to schedule routine examinations to preserve your eyesight and detect any eye conditions before they have the opportunity to progress.
Contact Our Eye Doctor in Henderson, TX Today
To learn more about our clinic and the range of services we currently offer the residents of Henderson, TX, please reach out to one of our helpful office staff. They can provide additional details and even schedule appointments for assessments, treatments, follow-up services, and more. You can also browse through the website to learn more about our eye doctor and the range of options patients have when turning our clinic for reliable eye care. For more information on eye surgery co-management or to schedule an appointment with our optometrist, call Henderson Eye Center today at .